This is the second in a series of guest posts from fellow members at Third Tribe, who responded to my call for help so I can finish up my very first product that will help immensely with community This one comes from Lydia Poblano aka @thevintagemama who had an amazing revelation and has written a very inspirational article that details how Fred Roger's advice transcends childhood and translates into better blogging. P.s if you're a cool Mom, you'll want to check out Lydia's site Thevintagemama.com, you'll like what you find there, trust me.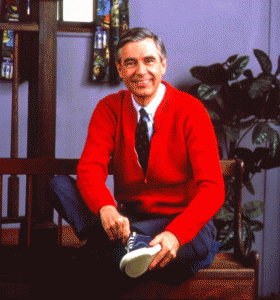 This past week my toddler and 9 month old were sick and miserable. Parents will understand that when you have 2 little ones sick at the same time you will do anything, anything, to keep them quiet and comfortable. And if that means watching hours of Mister Roger then so be it.
So at about the 5th episode of Mister Rogers my mind starts to wonder (perhaps in a desperate attempt to fight the slumber that I was slipping into), and I realize that there are real lessons from both the show and Fred's work ethic that I can apply to my blog and endeavors of building an online business.
Be neighborly
Remember how Mister Rogers always referred to you as his "television neighbor"? Made you feel all warm and fuzzy didn't it? Mister Roger's neighborhood was your neighborhood. He talked to you, understood your fears, took you to fun places where you met interesting people and knew just what to make you smile.
I took this lesson and began to be more neighborly with my Facebook fans and Twitter peeps. I shared my struggles and triumphs with weight-loss, shared photos of beauty events I went to and even dedicated songs to them via blip.fm. The result was genuine connections with followers that were previously silent.
#Tommy here- I've also recently discovered the power of being neighborly through commenting on other people's blogs. I fell into the camp of "yeah, alright whatever, everyone says that, but there's got to be another way" and sure there are other ways, but some of the best and interaction I've seen come to this blog have been from comments on other people's blogs. It's really impressive when you start doing it for yourself (if you haven't already)
It's all about content.
When you compare all the props and fancy sets of Sesame Street to Mister Roger's Neighborhood it's almost pathetic. But Fred Rogers did not let that discourage him from creating an awesome TV show for children.
I admit that I struggle with this quite a bit. I often kid myself into thinking that my lack of a snazzy logo, a smart phone, or custom web design is keeping me from success. But as Fred Rogers demonstrated, all I really need to focus on is creating awesome content.
#Content is by far the most important thing, but I won't to pretend that presentation isn't important too. Do you need to be flashy? No. I certainly am very minimalist. But you do have to be functional, and a big part of that is making sure everything on your site is easy to navigate. Even Mr Rogers had an "Easy to Navigate" show because of the format that the show was written.
Integrity is important.
Have you ever seen a singing Mister Rogers doll? How about a King Friday puppet?
Nope. Fred Rogers wouldn't allow his liking or characters to be made into any consumer products. Not because he was anti-commercialism, but rather because he felt it might compromise the integrity of the show.
As a mom blogger (yes I'm one of those) who's part of an influential mom blogger group in southern California, I constantly get hit up by companies to promote their product. Yes the attention and free stuff is very alluring, but if it doesn't agreewith my image or business, I pass.
#I can't even begin to explain how much money I sacrificed when I got started on my own, simply because I wasn't willing to succumb to the politics of Greed when I was working as an In-House SEO. Integrity isn't just important, it's everything. At the end of the day, people don't remember you for how much money you had, or how awesome your car was. They remember your name, and the things that you did with your name. Don't tarnish your name, because really, it's all you've got.
Modest people get the best attention.
With any online business having a social media presence is a must. However being too connected can sometimes come off as annoying. Tweeting all day, constantly updating your status on Facebook or responding to every question on forums is too much.
Fred Rogers is known for his quiet but engaging demeanor. He let his work speak for itself. He was honest, modest and genuine. And it was this modesty that he earned countless awards and recognitions in his lifetime and won a special place in every child's heart that grew up watching him.
#Agreed
We can all understand why kids are afraid of the dark, of big dogs or howling monkeys, but how about going down the drain? Well of course you can't go down the drain, don't be ridiculous!
But Mister Rogers knew that this fear is very real for children. In fact he wrote a song just about that!
Blogging can be just as scary. "What if I say something stupid?" "That other guy seems to know so much more than I do." "Why hasn't anyone left me any comments?" "Can I really make a business out of this?"
Building a business whether online or off can shake the steadiest of nerves. Its okay, we all go through it. So what would Mister Rogers do? Ask a neighbor for help of course!
Wait what's that you say? You're not part of a neighborhood where you can ask help? No worries dear! Come on over to my neighborhood, which just happens to be Tommy's as well, and find the support your looking for over at Third Tribe!
#I've been overwhelmed by the amount of support that has come from the members of Third Tribe, it's almost sickening. I promise you, we're really not a cult, just a bunch of people who love what we do!
So my Mister Rogers marathon was just as much of a lesson for me as it was for my sick boys. I learned to be more neighborly, that great content king, that integrity is a must, seek the right kind of attention, and that we all get afraid sometimes.