Chances are likely, if you're reading this blog,  it's because of the work I've done guest blogging.
Even if you came here through a search engine, most of the back links come from the guest blogging opportunities I've taken advantage of.
The tactic has allowed me to work with awesome editors. Learning from them has made my blogging a million times better.
In the last year, I've been published with New York Times best selling authors, landed interviews with Emmy award winning directors, and my work has been featured on some of the top sites within my industry.
I'm not saying this to gloat.  Far from it. When I started, I didn't think anyone would want to hear what some kid living in a boarding house would have to say. I sure as hell didn't think I'd be writing and collaborating with some of the top bloggers in the world. (Just last week Darren Rowse of Problogger asked me to write something real quick, just because. The gravity of that blows my mind)
For the first several years of my career, I was not a confident writer. It was only when I took Jon Morrow's Guest Blogging program that I gained the confidence necessary to believe what I had to say, and how I had to say it, would be interesting to my peers and to an audience at large.  Seriously, this program is one of the very few that I attribute my career successes with, and it forever changed my relationship with my writing.
Guest blogging has lead to huge opportunities for me, so you could imagine my excitement when I was able to book Jon Morrow, Kristi Hines & Neil Patel about guest blogging on The Mindfire Chats (three bloggers I very much look up to).
Here's a clip from the chat.
(Jon mentions the 101 best places to guest blog list, this is available to members of the GuestBlogging.com program here)
I'd like to expand on some of the tips in the video, as well as include a few of my own for finding guest blogging opportunities.
Alltop.com
Alltop is the top directory of blogs hand curated by industry.
By hand curated, I mean there are editors who manually review each submission and are allowed on the site ONLY if they fit a certain criteria (such as traffic, conversation, quality of articles etc.)
To find guest blogging opportunities on this site, I first highly recommend you do the network marketing exercise from Episode 3 of Inside the Mind. To avoid just going after websites that are directly related to what your primary topic, you want to find where your topics overlap, then search for those.

By searching for one of your "overlap" topics, you'll be presented with a variety of different verticals that could contain blogs that could be added to your guest blogging strategies.
When you click, on any one of these links, you'll be brought to a directory with the most relevant blogs within that vertical. Now, it may be tempting to just click through and immediately find the contact page so you can email your pitch, try to resist.
Instead, take the next little while to read whatever the most recent articles are on the site you're looking it.
Yeah, it takes up more time, but you could find that you don't want to publish with certain blogs. The best guest blogging opportunities aren't about traffic, they're about relationships. If you don't like what that blogger is saying, popular or not, you shouldn't publish with them, period.
If you never take the time to read their content you won't know if your thoughts line up.
Comments Section
"Leave really well thought out comments on a popular blog, and you could be invited to write for them."
This is pretty common advice, and it resonated throughout our chat, but I'd like to take it a step further.
Don't just look to get the attention of the popular blogger whose site you're writing for, but click through some of the other commenters profiles and see what they're writing about.
Seeing that you share an interest (the popular blogger) it could be that you could lend something to their site.
Many times when we're leaving comments, we're looking to get the attention of the popular blogger only. Taking a step back the problem with that is glaringly obvious, that's only ONE person.
But when you start interacting with the other commentors, and offering to contribute to their platform, you go from one of them (other commentors) to one of us (hey, I'd like to write for your site) This is exactly how I came to do a site review for Tom Morkes and why he was more than happy to ask people to participate.
When you look back at pretty much all of the big names, they're frequently associated with other big names. (Brian Clark, Chris Brogan, Darren Rowse, Jon Morrow… etc etc.)
This isn't because they all happened to "get famous" at the same time, but because they all worked towards a common ideal, each reinforcing  and supporting each other's beliefs.
This concept isn't new. It's why you see all the same actors in Judd Apatow or Kevin Smith movies. It's why musicians feature each other on their albums and why a lesser band tours with a slightly more famous one.
That's why it's vital you build your professional network and really get involved with other people's work.
Topsy
Topsy, if you don't know, is a service that helps you to monitor social media activity over Twitter, Google+ for popular topics. By doing a search for "guest post" [keyword] you're able to find a pretty fresh set of results of people who are sharing using that set of words.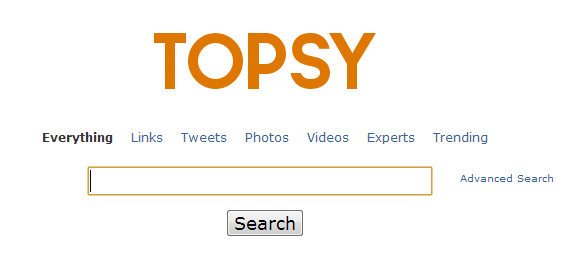 Here's what Rae Hoffman says about the technique on Copyblogger.
"If I wrote a cooking blog, I might search Topsy for ["guest post" cooking] and use the left sidebar to narrow down the results. I can ask Topsy to show me the links that were shared on Twitter within the last 13 days, and sort the results by date."
But beyond that, keeping tabs on a searches like this help you monitor trends within your industry. Find out who publishes the most guest posts, how often they're shared, and how well they go over with their audience.
Watch these trends over time and you'll really understand what makes your potential readers tick.
Over Twitter
Finding guest blogging opportunities through Twitter is not like the last tactic. In fact, you don't even start on Twitter.
Instead, when you find an article on another blog that's on a subject you can write knowledgeably about, click on the number above the twitter shares to see who has used the tweet button to share the article.

The cavet is, you have to click this button while the article is still fresh. Twitter eliminates these searches after a few weeks, so watch your favorite blogger's articles for the next few days after they're published. Monitor the shares on the article the same way they would and you'll find their most avid followers…
…you'll also find their most influential. When you click on the number, by default a list of the "top" sharers will be displayed. Click through their profiles to get a rough idea of their twitter metrics.
If someone has a high amount of followers, run their profile through the fake follower check to make sure they're legit. If all checks out, head over to their website, evaluate their content, and determine if you want to post from there.
Google+
Method is similar to the last.
If you find a post is getting a lot of +1's on Google, copy the url and paste it into the Google+ search.
From there, you'll find a list of all the people who have shared it. Fortunately, these posts don't expire and you can save these searches.
Even better about Google+ is that you're able to see what people are saying.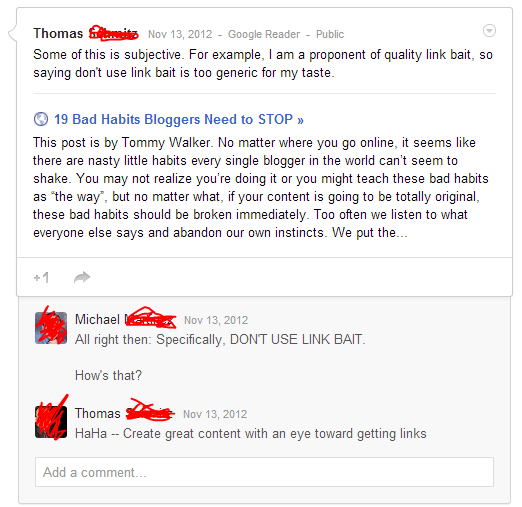 For the people who don't love the content, look at their criticism and if there's a point you agree with, work that into your approach. Learn from what they're saying and clarify your points to make them clearer than the original.
For the people who rave about the original content, propose follow up to iterate on the concept and ask if you can follow up on their blog. You could also take this feedback to craft a masterful pitch for the original blog.
Conclusion
These are only some of the ways I've sourced guest blogging opportunities in the past, and I'll update this post in the future to include more.
Guest blogging can open doors when you have the confidence to approach people to share your ideas. If you're intimidated, it's ok, I recommend taking a premium training course. It'll give you the training and confidence you need to share your ideas in the way only you can.
Find your voice, and the people who'll help you amplify it.
Now, I'm going to turn it over to you. Are you ready to take your blogging to the next level?