(Click here for FullScreen HD)
The purpose of this series is to help you build a deeper relationships with your customers so you can develop content that people will love interacting with, and products they can not live without.
The focus is on using Facebook for business, not just, "Get more fans" because first, having a ton of fans that don't give you a ton of feedback is pointless, and secondly, when your focus is truly on connecting and deepening your relationship with your readers, "more fans" is a natural by-product of that connection.
With today's video, I was a little torn.

I wasn't sure if we should talk about using events to promote real world events, or if we should talk about using Facebook video to organically grow your fanbase. So I asked you. And the result was a 50/50 split.
But then it occurred to me, we can talk about using Facebook Video to organically grow your fan base, and promote your real world events!
"Why would I use Facebook video, isn't Youtube the standard for video uploads?"
And the answer is yes, Youtube is the number one video sharing site in the world, BUT Facebook's has some very unique capibilities that simply can not be utilized through Youtube.
The most notable is the ability to "like" a page directly from the video.
This like button shows only to people who have not already liked your page.
From a pure functional standpoint, this is how you're able to "grow" your Fan Base organically.
Of course, the content of the video is what will determine whether someone is going to "like" your page or not, and without talking to you one on one, there isn't much I can tell you that isn't generic advice you've heard before.
How to improve your video click through rates.
Here is some research from Dan Zarrella that will improve your chances of getting people to watch in the first place.
First up, let's look at the effect of readablity on Facebook Sharing.
Dan says "What I found was that as the reading grade level required to understand the title of an article increased, the number of times it was shared on Facebook Decreased" This reflects the research we found in Day 11's video that basically says "the simplier the language, the more feedback it will get"
Next we have the most sharable words on Facebook.

Dan Says "What I found was that list-Based superlatives like "best" and "most" work pretty well on Facebook and titles that explains something like "why" and "how" also perform above average.
Also not surprisingly content with "Sex" and "Positvity" is the more sharable.
One other notable difference between Facebook and Youtube
Is that you're able to select 1 of 10 thumbnails vs Youtube's 3, giving you a much greater control of what will be displayed when you post.
Derek over at Social Triggers says this about images in general:
"As smart as we human beings are, we can't resist certain urges, and three of those urges are as follows"
People can't resist following the gaze of other people.
People can't resist seeing where an arrow points and
People can't resist following the "line of sight" of objects.
Keep this in mind when you're creating the "thumbnail image" for your video
You can create some very interesting results:
So how does this tie into promoting events? Well it's actually very simple.
But first, let's talk about what needs to go into creating a compelling event.
Now it's important to let you know, you can create events from both your personal profile, and as your page. I recommend to create the event from your personal profile because you have the ability to message directly to attendees inbox which makes this an infinately more attractive option.
To create an event, from your Facebook home page click on events on the left navigation.
Then click on Create an event.
Now just like we talked about in Day 2, it is vital that you make sure everything here is as detailed as possible.
In the event's description, be sure to re-iterate the Day and Time and what timezone the event is taking place. If the event is virtual, also be sure to include a link to a timezone converter so people in different timezones don't have to guess.
If your event takes place in a physical location, include a link to a Google Map with the end destination specified. Then click on the link icon on the top right hand corner and copy the full link.
And to make it look nice and clean, run it through a url shortner like bit.ly and create a custom Url for directions to your event.
Place it towards the top of your event's description.
If you want to have a better idea of what the final description is going to look like, drag the bottom right corner of the description box to see exactly what you're working with.
Include all of the relevant information, like what's being covered during the event, mention anything is required of attendees and avoid using large blocks of text to make your description more scannable.
If an actual registration is required, include a link to an external registration page, and draw attention to it so your guests click it order to register. Some people think that by clicking "I'm attending" they've signed up when that's simply not the case.
Once you have your description filled out, add an event photo. The ideal size for an event photo is 200 pixels wide, and 296 pixels tall.
Your event photo is very important because a thumbnail will appear any time somone confirms they are attending your event or interacts with your event wall.
Your event photo should be appealing to those who see it, If you can incorporate it into the design, include at the very least the day and time of the event, as the photo will naturally attract more attention than the text and if you want really want to encourage people to invite their friends include a strong call to action at the bottom of the photo.
Once your photo is uploaded, click select guests and select only those on your friend's list who you think will find this event relevant. Resist the urge to check all of the boxes and be selective.
And before you've sent your invites, make sure to add a personal message to to let your atendees what it's all about.
The only way this message is visible is if they click on "events" on the left navigation. So it's likely most people won't actually see the message, but for those who do, it will be that much more personal.
So now that your event is all nice and pretty looking, there's a couple of things you should do.
The first thing you should do is create a welcome video for anyone who is attending the event.
Consider this video sort of a "teaser" as to what the event is going to be about.
Use this welcome video to encourage people to ask questions on the wall. If there's any grounding material for your event, if you're doing any sort of "door prize" this would be the place to let them know.
Re-iterate the point of telling them to click "I'm attending" on the event at the top, and if they have to go somewhere else to "register" let them know in the video as well. and certainly use this space to tell them to invite their friends.
Following the age old advice of Aristotle Tell them what you're going to tell them, so they know exactly what to expect when it comes time for the event itself.
The reason for all this interaction? The more they interact with your event, the more it will show up in their freinds News Feeds creating that snowball effect of true organic viral growth.
Also to keep things organized.
Facebook recently unrolled the option to preview links and play videos in comment threads, so if you reference any external links in your video, post the link in the comment thread so people can easily go to where you guide them.
A few more quick notes before we move on (because we haven't even gotten to the coolest part yet)
After you've invited people to an event, whether they click "I'm attending" or not, they'll be notified when you the admin, or their friend posts on the wall.
This can be really good if you've got a couple influential people interacting with the wall because it will encourage their friends who were invited to also participate, or it can be really bad and get a whole group of people upset because of the constant notifications. This is why it's very important to be selective about who you invite.
Also, once someone clicks "I'm attending" activity on the event's wall takes priority in their News Feed, especially when one of their friends interacts. Which is why it's important to encourage healthy participation for group events.
And finally, if you've created the event from your personal profile, by clicking message guests in the top right corner, you'll be able to deliver messaging to the inboxes of people who have indicated their interest in the event.
Don't abuse this. You'll notice there is a drop down next to Attendees. Use this, create specialized messages for those who are attending, maybe attending, and have not replied.
For example, you can send out exclusive "Thank you" Bonus material to everyone who's clicked "I'm attending" You can ask those who are "Maybe attending" if they would be in their interest if you were to do the event again at a seperate time. And you could send periodic reminders to those who "have not replied"
Also, this sort of "direct" messaging doesn't go away just because the event is over. So use this to send out any follow up, like a replay, or notes, even a link to the next event you'll be having. By fully utilizing Facebook Events you can build some very deep 1 on 1 relationships with people.
Now back to what I was saying in the beginning..
We're going to take video to organically grow your Fanbase, AND promote your event.
So as it turns out, every event is a taggable object on Facebook.
And when you're uploading a video for the first time through your Fan Page, you can tag any object in the video's description.
While it might not look like it as you're going through the process of uploading. If you've Entered all of your video's description information right in the very start…
Your event will be tagged as part of your videos description, and you can use your video as a call to action to register for the upcoming event.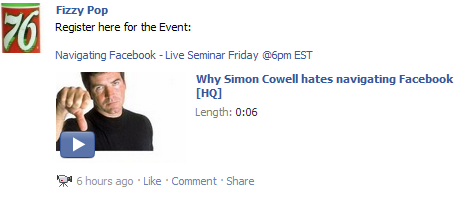 So to recap
With your video thumbnails use line of sight, arrows, or personal gaze to direct to the action. Use simple language for your video's title. Sex sells, as does positivity. Tag your event in your video's description, and use your event's messaging tools to actually stay connected, and people will love you for it.
And that's it, that's the end of Day 19 to 21 Days to a More Engaging Facebook Presence.
We covered a lot to day, so if you have any questions, please feel free to ask in the comments section. If you like this video please share it and if you haven't already "liked" my page, you can do so by clicking on the top left hand corner of this video, or by going to my Page at Facebook.com/tommyismyname
And if you'd like to receive all of the other videos in the 21 Days to a More Engaging Facebook Presence Series, enter your email below