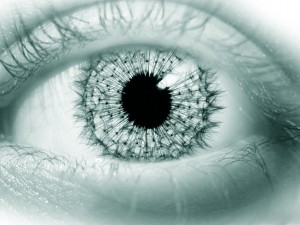 I just
walked past a clothing store and got a text message
from the store's auto-responder. By passing by the store I had crossed through the company's geo-fence – so what I received in the text was an image of myself wearing an attractive outfit comprised of pieces sold by the store, and the background was the restaurant where I had just had lunch a few minutes before.
The bottom of the screen said, "20% off entire outfit. Press 'reply' and a specialist will be right with you." This isn't the first time this has happened, but it's the first time this clothing chain has made use of geo-related technology for marketing.
I won't go into whether I bought the outfit, because that's not the point. On the car ride home I used a radio app on my phone to stream some music. Every single song during my commute home was one I wanted to hear, and I realized after the fact that I had paid attention to the ads during the "limited commercial interruption." I remember most of what was advertised, to the point that looked up one of the companies mentioned when I got home.
I enjoy having help at a clothing store. I appreciate that my tastes are acknowledged by radio programs and advertisers, and I like knowing that when it's time to relax later, an almost-perfect t.v. lineup will be waiting for me.
In my world, the stuff we saw in Minority Report is almost feasible. There aren't any eye scanners, and no names are being carved into wooden balls or anything, but as long as I have my phone,  the world seems to be perfectly tailored to me.
Because of the cross-integration (some might call it cross-contamination) of my personal data shared on social networks and my use of preference-sensitive programs, it's not surprising that my favorite clothing store knows my face and my style. It's due to a gradual sharing of information over the past few years. First Facebook tracked my likes and my social motives, then my phone started telling businesses when I was inside or nearby – I took the first step by forcing them to acknowledge me on Foursquare before they knew to look for me. There's a bond of information between myself, the devices I use, and the places I go that makes all of this possible.
I helped create this scenario with a small trickle of information provided over the last few years. Once in awhile, I'd give a virtual "thumbs up" to a song I liked, I'd "check in" to a location, I'd "like"  different things online, and each interaction was logged by these different companies until it could be used to benefit both of us. My personal preferences, nuances of my identity, are in the hands of people I've never met.
Why am I not scared by this?
Because I wanted to share this information. None of it is too extremely personal. I'd tell my friend what style jeans I'm wearing, so why not tell a store so I can get a deal on them? My experience of a consumer's world is tailored to my personal preferences, with the door wedged open just enough that I'm occasionally introduced to something new, which is nice.
Advertising is honed to perfection and works in harmony with data from large social networks, and conceptually speaking, this scenario – this lifestyle – is just a few years away at most. This means a lot of personal information has been aggregated, which scares some people. On the other hand, it means the potential end of conditioning ourselves to ignore the vast amounts of information being thrown at us on a daily basis.
My question to you is: does this version of the future have you nervous, or excited?