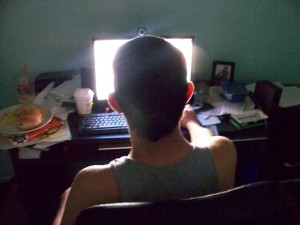 You're in a room, at a desk, and the only source of light is the dim glow of your computer monitor. Your eyes are heavy, your body is hunched, and it's  been a while since the last time you blinked. You know why you want to market your business online but despite long hours of doing everything you can, for some reason it's just not working out.
Does this sound familiar?
Make no mistake about it, online marketing strategy is hard work. But if you begin shifting your mindset to work more strategically, you'll cut down on the time you spend spinning your tires, and maybe even start sleeping again.
In order to begin thinking more strategically about online marketing, you must first know the difference between the 14 disciplines of online marketing.
Things you'll need:
Professional network
Customer network
People Skills
Platform Skills
Research Skills
Your professional network
Here's a simple truth, very few well done websites were done by only one person. They all have a little help along the way.
If you build a network of professional contacts early, you'll be a step ahead when it comes time for change.
Not to mention that you'll save time and money by networking with vendors who's work you can vet. It's also important to know many people in the same field. If you need someone on short notice and they're not available, it's always good to have a back up. Take your time and build relationships with these people when there's no risk.
There's nothing worse than having to pay for a contractor's shotty work because you found them on short notice.
Recommended list of people to have in your professional network:
Web designers
Web app developers
Video Producers
Graphic Designers
Copywriters
SEO's
It's also worth mentioning that it's important to have a basic understanding and some practice at each of the jobs within your professional network.  This keeps you protected in a few ways. First,  you'll never be caught off guard, if someone bails on you, you can at least be able to preform the basics. You'll be able to speak someone else's language, reducing communication errors and false starts along the way. Having personal experience in any given field is also a great bullshit detector, giving you more security from those who could potentially rip you off.
Your network
Knowing your target market is a huge first step towards your ability to be useful.
"Knowing" goes well beyond age and gender though. You should have a general idea of what music they like, what kind of movies and television shows they watch, their favorite foods, and the sorts of problems that you'll be able to solve.
How do you do this?
Actually go out and build relationships with them. Join communities they're in, answer their questions on linked in, friend them on Facebook, RT them on twitter.
Building personal relationships with your potential s has a two-fold purpose.
First, you'll build a personal network of people who know who you are and will be the first people you can ask for help, especially when it comes to promoting your business.
Second, discovering these peoples needs will greatly reduce the amount of blind effort you put into keyword research, content creation, and website discovery.
Building one on one relationships eliminates a ton of guesswork.
Your people skills
There are a couple basic rules about people.
Most people like to talk about themselves. A lot.
Most people would rather find short cuts or have a problem solved for them.
Most people don't want to change their patterns.
If you let people tell you what their problem is, and offer them a short cut that won't require much change, they'll love you forever.
Most people don't like being pitched blindly, so if you have something that a group of people might like, don't go in guns blazing. That just makes you look foolish.
Imagine a guy walking around a cocktail party, wearing a sandwhich board and handing out flyers. Doesn't seem right does it?
The trick is to listen and respond. Listen and respond. Listen and respond.
Really take the time to see if that person could benefit from whatever it is you're selling. If they can, don't go straight for their throat, but rather make a subtle but clear recommendation that you have a solution to their problem.
If they can't, let them know what you do, and if they know anyone that might be able to benefit, please pass your name ( or website, or business, or whatever) along, and keep the relationship open. Check in with these people from time to time. You never know who they might have spoken with since the last time you talked.
The more you listen while your building your personal network, the more you'll learn about who and who not to target when crafting ppc ads, video content, or blog content.
Your platform skills
You must know the platforms on which your marketing on inside and out. No questions. No excuses. No cheating.
If you don't know everything a platform has to offer, how do you know if you're working to maximum effectiveness?
What this really means is spend time getting to learn everything you can about a platform. Start with the one you spend the most time on.
If it's Facebook, learn everything there is to know about Facebook. If it's your website, learn everything you can about your analytics tools.
It doesn't matter where you start. Just start somewhere.
The more you know about the platforms you're working on, the more enlightened you'll become on how to market yourself through that platform.
It's the difference between being able to drive a car, and being a mechanic. Fortunately for you, internet platforms aren't as complicated as cars.
Research Skills
When it comes to researching your potential s needs and wants , there are three really good places to start.
Google- start by searching keywords you think people will be using. Once you have a really solid foundation for the types of questions they're asking, use Google's advanced search operators to find out what sorts of resources are available to them. Use the same, or modified version of those same keywords and plug them into Google news to and find out what they might be reading.
Google news not only gives you up to date information on any given topic, it also gives you fresh ideas for banner advertisements, ppc ads, and a good list of places to beg for links (if you were so inclined)

Twitter- The power is also in the search function on Twitter. The difference with Twitter is that you can monitor what's happening in real time.
There are a few different ways you can do this. My two favorite methods are to keep a site wide search open in tweetdeck if I'm monitoring for general mentions or links pertaining to a keyword. Or if I'm looking to stay more local, I'll use Monitter.com to monitor tweets within 10-100 miles of a specified destination.
In the research portion, monitoring what's happening in real time is useful to find breaking news, or track trends within a given industry. You'll also get a feel for the sort of language your target audience uses to share with their social graph (hugely important to promote the spread of your own content)

Linkedin- More specifically, Linkedin Answers is a great way to see the exact questions people are asking as it could potentially relates to your business. Answers also gives you an idea of what your potential competition is saying. Seeing your competitor's responses will will either A.) help you realize that you truly are ready to market yourself or B.) help keep you from making a fool of yourself and lending out false or underdeveloped information. Either way, Linkedin Answer's shouldn't be ignored.
Now that you've started to think more minimalist about your online marketing strategy go get some sleep.
Remember, none of us can ever be perfect strategists, and no one expects us to be. However, we can all improve our style and work smarter by following these tips and improving your skills and network.