Brutally honest feedback from the titans of conversion optimization
In 2014, 3-year old ConversionXL and 5-year old Unbounce had achieved moderate success with their experiments with video. Wanting to experiment with the fledgling Google Hangouts on Air and Unbounce's software, I proposed we create a show that gives "brutally honest feedback from the titans of conversion optimization." Once a month, we would stream live and would invite viewers to interact using the hashtag #PageFights.
Each episode, hundreds would submit their landing pages while even more viewers would tune in and interact live to get comedic, actionable, free advice by some of the top names in the online marketing industry.

To make things interesting, we invited guest judges to provide their own unique perspective.
Our judges included:
Rand Fishkin (Moz / SparkToro)
Jay Baer (Convince & Convert)
Joanna Wiebe (Copyhackers)
David Kadavy ( Author of Design for Hackers )
Noah Kagan (App Sumo)
Demian Farnworth (Formerly of Copyblogger)
Paul Jarvis (Author of Company of one)
André Morys ( KonversionsKraft)
Craig Sullivan (Optimal Visit)
Michael Aagaard (Formerly of Unbounce)
Ian Lurie (Formerly of Portent)
John Bonini (Databox)
Anna Sawyer (Avian Mimic)
Thanks to the humor, the production quality the Unbounce design and social teams brought to the table, and the genuine community it built, Page Fights was an experience hundreds would be excited to tune into every month. But there was an ulterior motive.

What I really wanted to do was showcase Unbounce's landing page software in an innovative way.
At the time, webinar's dominated the live streaming format. Regardless of how good your content was, you were beholden to the UX of the webinar software. Hosts would ask you to sign up for email in one place, use a hashtag on Twitter, and ask for questions in the webinar's Q&A box. It was a completely disjointed experience.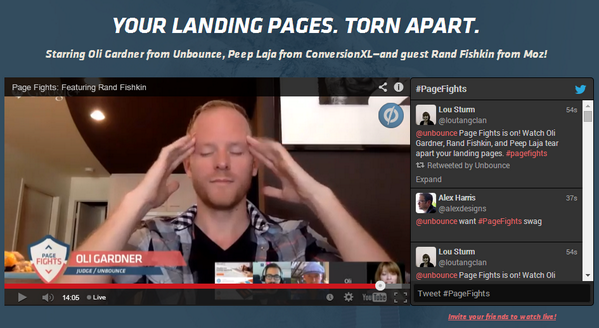 But with Unbounce's easy-to-use landing page software, we could control the user experience by embedding the live stream, Twitter chat, voting function, and email subscription box, on a page we owned while maintaining own unique branding.
After a year, Page Fights generated over 47,500 organic views on YouTube, 10,000 unique tweets, and thousands of email addresses.
But perhaps the best thing to come out of Page Fights is that it helped Oli meet his wife.